NOVELS
MADNESS OF THE Q, FROM DOWN & OUT BOOKS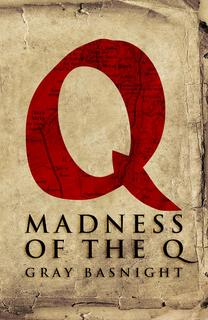 FLIGHT OF THE FOX (Prequel to Madness)
Flight of the Fox is a thriller that stakes out new space in the run-for-you-life genre. Sam Teagarden does not carry a gun or know karate. He is a math professor whose principal weapon—is his intelligence.
When he must go on the run for his life, he gradually decodes a file found in his inbox that reveals dark secrets about America in the 20th Century. If published, it will radically alter the public's view of history.
EXCERPTS:
"The very thing that makes this country great is the will to allow truths to be told. All truths. Including truths that reflect back at us with toxic radiation."
-- Danford Shackton
"This guy is not Stasi, KGB, or Gestapo. He's not Al-Qaeda. He's not an ISIS sleeper. And he's certainly not Jason Bourne. He's a teacher. A Ph.D. in arithmetic at Columbia Liberal University. His parents were hippies. He was born at Woodstock. His name is personified milquetoast—Tea-gar-den. And I am telling you: I . . . will . . . get . . . him!"
-- Harry McCanliss
WVIA Reading and Interview
A FLIGHT OF THE FOX reading and inteview from WVIA in northeast Pennsylvania with great productions values.
SHADOWS IN THE FIRE - 2015
Wise beyond her years, Miss Francine is a twelve-year-old slave girl in Richmond, Virginia during The Civil War.
As a housegirl, she endures the hardships of bondage as well as the oddity of being privately treated as a daughter by her mentally ill white mistress. She dreams of finding her real mother and eventually marrying her fiancé.
Then comes April 1865 when the capital city explodes with fear and violence. She is abandoned and thrust into a world of debauchery. Along the way, she meets a tall man with a lanky gait whom the other slaves call Massa Lincomme, and proclaim, "Moses done come."
During her courageous journey, she is transformed from child to adult, from girl to woman, from human chattel to American citizen.
EXCERPTS:
"I steal time every dawn to wonder about my mother. I did not know her, but after I awaken each morning with the sun, I always take a moment to wonder where she is and how she fares."
-- Miss Francine
"Fire! Fire everywhere."
-- Miss Francine
"I shall say a prayer to Him expressing my deepest gratitude tomorrow while in that place--while in that city called Richmond."
-- A. Lincoln.
"This meticulously researched novel covers a time period that is always of interest... Fans of Civil War fiction will find the story compelling." -- Library Journal, April 2015.
THE COP WITH THE PINK PISTOL - 2012
She doesn't do jiggle. She isn't into shoes or jewelry. She doesn't wear makeup (or, as she calls it, "war paint"). NYPD Homicide Detective Donna Prima's sole concession to modern womanhood is the pink .38 she wears strapped to her ankle. Not that she has much opportunity to use it, having been demoted to desk duty for a serious infraction of departmental rules.
On a routine burglary follow-up in Greenwich Village, Donna meets soap-opera actor Conner Anderson (Crawford on the top-rated "Vampire Love Nest"), who alerts her to some strange goings-on in a liquor store across from his apartment. Sick of being chained to her desk, Donna decides to investigate.
Meanwhile, the FBI needs her help on a cold murder case as they investigate a theft at an upstate nuclear power plant. Will taking on Conner as a "civilian partner" be the start of something beautiful or the biggest mistake of Donna's life?
Library Journal
"With a wink and generous helpings of tongue-in cheek humor, Basnight dishes up a delicious debut that will strongly appeal to anyone who loves amateur sleuths and colorful cops." Debut of the Month (starred review)
Mystery Tribune
"Basnight has a unique quality in his writing which I have rarely seen in other modern mystery authors..."