A Brief Bio:
Gray Basnight is a native of Richmond, Virginia.

For almost three decades he worked in New York City as a broadcast news writer, editor, producer, and reporter. He is now deeply immersed in fiction writing.

Gray lives in New York with his wife Lisa, and their golden retriever Tinta.

You can reach him by clicking on the above contact link or find him on Facebook.


Of my four great grandfathers: Thomas J. Basnight, Alexander Wilcox, James T. Joyner, and Jesse Lee Smith, three served in Confederate gray, though it appears that Alexander Wilcox never saw military action, having principally held the position of cook at Camp Magnum in Raleigh, North Carolina. Regardless of status, all three survived the war.

My fourth great grandfather Jesse Lee Smith, was born in 1813 and therefore was too old to serve.

As a child and teen, having a blood connection to an American era that seemed possessed of both romantic gallantry and wildly audacious courage was a prideful indulgence. It was a foolish sentiment of youth. Maturity and continued education eventually wrought a 180 degree shift. My latest novel, SHADOWS IN THE FIRE, is the result of that evolving mindset.

.................Vikings:
I am also directly related to Ivar Ragnarsson, the Danish Viking nicknamed "Ivar the Boneless." He was a member of the Norse warriors known as berserkers who fought and killed with such rapture that some believe they must have been in a drug-induced state. In the year 865, he led the conquest of what is today East Anglia, England. Don't ask why he was nicknamed "Boneless." It's anyone's guess. Some theories suggest a malformed leg, others suppose that......well, you can imagine the rest.

Ivar the Boneless is my (31 greats) great grandfather, which looks like this in print: Great, Great, Great, Great, Great, Great, Great, Great, Great, Great, Great, Great, Great, Great, Great, Great, Great, Great, Great, Great, Great, Great, Great, Great, Great, Great, Great, Great, Great, Great, Great Grandfather.

In 1958, Kirk Douglas played the role of Ivar in the movie "The Vikings," although Hollywood changed his name to Einar, probably (and this is entirely my own speculation) because they didn't want Mr. Douglas associated with anyone known as "Boneless," no matter what the actual meaning.
....................Current Family
Lisa Weiss,
Spouse of Many Years,
And Girlfriend of Many Years Before That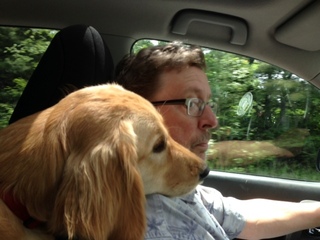 Tinta,
A Golden Retriever Extraordinaire, Helping Me Drive
..................Former Family (Fondly Remembered)
Taxi (A Cavalier King Charles Spaniel)
Loyal Friend Also Known As: Cuteboy, Spiderdog, Ticky-Tack, Fearless Kibble Hunter, and "Oh-My-God- Look-At-That-Dog."
(1998-2012)